Ride for Fun
Bike for fun and rent from us!
Biking in Santa Monica and along the beachfront path is a wonderful way to tour the sites, get some exercise, and enjoy the Ocean breeze. Bike & Park has partnered with Perry's Bicycle Rentals & Tour and Segway Los Angeles to offer quality rental bikes, Segways, and exciting guided tours.
Santa Monica's Best Rides
1. The Oceanfront Beach Path
2. The Brentwood Loop
3. The Venice Canals
4. The Pacific Palidsades Loop
5. The Family Loop
6. The Tan Line Beach Cruise
7. The Westside Loop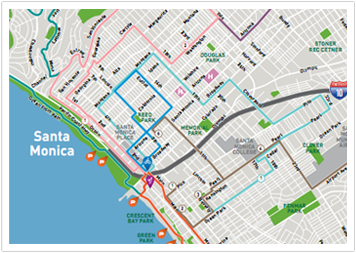 Palisades Tour
Santa Monica Pier/Pacific Park

Heal the Bay Aquarium (under the Pier at 1600 Ocean Front Walk)
Historic Carousel on the Pier deck above the Aquarium.
The world famous Santa Monica Pier offers a variety of entertainment and shopping, including Pacific Park amusement park; Heal the Bay Aquarium; a historic 1922 Carousel; the world's only solar powered Ferris Wheel; plus specialty shops/carts, eateries and full-service restaurants.
Oceanfront Beach Bike Path (from Santa Monica Pier to Will Rogers State Beach)

Annenberg Beach House (415 Pacific Coast Hwy, Santa Monica, CA 90402)
Will Rogers State Beach (15800 Pacific Coast Highway Pacific Palisades, CA 90272)
Perry's Café (Two locations along the tour)
Riding North along the Oceanfront Bike Trail you will find the Annenberg Beach House, which offers a year-round schedule of cultural programs, classes, free tours of the Marion Davies Guest House, lunch at Back on the Beach Café, and sand courts for beach tennis, volleyball and soccer. During the summer visitors can take advantage of the beautiful Southern California summer pool, summer inspired classes, the seasonal Sand & Sea Fitness Room and Beach Rentals.  The beach bike trail ends at Will Rogers State Park.
Pacific Palisades Village
Will Rogers State Park
Palisades Park (Ocean Ave. from Colorado Ave. to San Vicente Blvd.)
When you return to Santa Monica stop at Palisades Park overlooking the Santa Monica Pier and Beach to take in a spectacular view of the Pacific Ocean.
Family Friendly Tour
(3.6 miles on flat, easy streets)
Santa Monica Farmer's Market (Corners of Arizona and 2nd Street)

It's market day at the crossroads of Arizona & 2nd St. every Wednesday and Saturday from 8:30 AM - 1:30 PM. Walk your bike through the market and grab some fresh snacks for the ride.

Montana Ave. Fun shops and Dining

Brenda Himmel Stationers
Scribble Press (1109 Montana Ave)
Peek Aren't You Curious (1015 Montana Ave.)
Cheryl's Fudge Camp (1010 Montana Ave.)
Nothing Bundt Cakes (927 Montana Ave.)
Caffe Luxxe (925 Montana Ave.)
Reed Park Playground

The playground and surrounding areas are great for the kids.  Parents can check out the historic Mile Memorial Playhouse built in 1929 by famous local architect John Byers.

Santa Monica Public Library

There is plenty of bike parking at the library, while your here check out the interactive kids' reading area, the Friends of the Library bookstore, and if you need refueling the Bookmark Café (601 Santa Monica Blvd.) has smoothies, yogurt, wraps and more.

Santa Monica History Museum (1350 7th St.)
Finish of the tour with a visit to some kid friendly shops on the 3rd Street Promenade

Puzzle Zoo Toy Store (1413 3rd St. Promenade) A treasure trove for kids.
Hennessey + Ingalls (214 Wilshire Blvd.)  Great place for picture books and postcards.
Blue the Transit Store (223 Broadway Ave.) Maps of local transit options, trip planning assistance, and transit themed souvenirs.
Venice Canals & Marina Tour
Oceanfront Beach Bike Path (from SM Pier to Venice Pier)
Venice Beach Park & Muscle Beach (1800 Ocean Front Walk Venice, CA 90291)
Frank Gehry Beach House (2509 Oceanfront Walk, Venice, CA 90291)
Perry's Café (five locations along the tour)
Ride South from Santa Monica Pier to Venice Beach Park, the place to people watch, here you will find street performers and assorted entertainers at this popular tourist destination.  Muscle Beach is a special area where fanatic bodybuilders pump iron in a public setting.
Just before you reach the Venice Pier stop to see an original Frank Gehry designed beach house near 25th Place and Speedway.
Venice Pier & "End of Washington" Blvd.
The Venice Pier offers great views of the shoreline, beach and surfers.  Then head inland beginning with the "End of Washington" Blvd, a tiny beachfront district just two blocks long with beach shops, cafes, bars, and lots of people and pet watching.
Leave the Oceanfront Bike Trail and explore the famous canals, now a quaint upscale neighborhood in Venice.  Here you will find fully restored and remodeled homes along the canal shores.  The original Venice, California canals completed on July 4, 1905, were meant to be a copy of Venice, Italy.  Today, only a few of the original 16 miles of canals remain, by 1929 most were filled in and converted to roads
Continue your tour along the Marvin Braude Bike Path to Burton W. Chace Park located at the end of Mindanao Way. This is a 10-acre green oasis with fantastic panoramic views.  Walk to the top of the grassy knoll for the best look at the marina that surrounds you. It's breezy and relaxing, and a good place to take photos.
Fisherman's Village, Fiji Way, Marina del Rey
This is the local center of recreational boating and water sports, and a good place to walk along the New England wharf-style waterfront, see boats in the harbor, and get a bite to eat.  Enjoy free outdoor concerts near the lighthouse on weekend afternoons.
Abbot Kinney Blvd.
Main Street Santa Monica
The return trip takes you to eclectic Abbot Kinney Blvd. and Main Street Santa Monica where you can find plenty of shopping and dining choices.
Westside Tour
Ballona Creek Bike Path & Culver City
Ballona Creek Wetland Preserve

The Ballona Wetlands are located in Southern California, USA south of Marina del Rey and east of Playa del Rey. The wetlands once included the areas now taken up by Marina del Rey, Venice, and Playa Vista, extending north to about present-day Washington Blvd. in Venice.  It is one of the last significant wetlands area in the Los Angeles basin, and is named for Ballona Creek which now runs through the area as a flood control channel. In the 1930s the Ballona Creek corridor was channelized in concrete, thus greatly reducing the inflow of salt water to the marsh, and eliminating spring floods that brought freshwater to the wetlands.

Take a break in one of the pocket parks along the path.
Public Art (Duquense Ave)

Crossed Currents Sculpture, 1999
Rivers of the World Mural, 1997 Acrylic paint and ceramic tiles

Towne Plaza & Sony Pictures Studio

Bronze and copper sculpture, A Moment in Time, 2006, featuring City founder Harry Culver and family.
Bronze sculpture, The Lion's Fountain, 2004, is a focal point of Town Plaza, delighting visitors with its carefree demeanor and dancing water jets.

Public Art (Washington Blvd.)

Light Wave, 2002, three-dimensional stainless steel and glass painting. (NW corner of Washington and Robertson Blvds.)
Gehry Loggia, 2008, enameled aluminum and glass motif is the gateway to Park Century School's main entrance at 3939 Landmark Street off of Washington Blvd.
Helms Coach Gone A Rye, 2002, at 8684 W. Washington Blvd. is a three-dimensional Culver City street scene that includes a replica of a 1948 Helms Bakery coach.

Helms Bakery District (Helms Ave. between Washington & Venice Blvds.)

Enjoy retail shops, restaurants, bars
Beverly Hills – famous for celebrities, upscale shopping, fine dining and great public art.
September 11th Memorial, City Hall, Annenberg Performing Arts Center, Main Library (nice restroom stop) (Rexford Drive at SM Blvd)
Beverly Gardens Park, home to unique public art and the famous Beverly Hills Sign (SM Blvd between Canon and Rodeo)
Beverly Wilshire Grand Hotel (Corner of Wilshire & Rodeo - film location for Pretty Woman)
"Pink Palace" Beverly Hills Hotel (Corner of Sunset Blvd and Rodeo Dr. across from Will Rogers Park (more  bathrooms)).
Spadena House, aka Witches House, (SE corner of Carmelita Ave & Walden Dr)
Beverly Hilton, former home of the Academy Awards, currently hosts the Golden Globe Awards. Every U.S. President from JFK to Clinton has stayed here. (At the crossroads of Wilshire and Santa Monica Blvds.)
West Los Angeles
Bad News Bears Field

Established in 1951, named in honor of Bill Lancaster, son of Burt Lancaster, who wrote the screenplay for the original Bad News Bears movie shot at Mason Park in Chatsworth.  Bill played little league as a boy at this field near the I-405 and upon his death, LA Parks and Rec dedicated it to the movie title.  Most people mistake this for the location of the movie because of the name.

Jackie Robinson Stadium

Located on the site of old Sawtelle Field, Jackie Robinson Stadium provides one of the most comfortable college baseball settings in the West. The stadium was made possible by a private gift from Hoyt Pardee (UCLA '41), a classmate of Jackie Robinson.
Brentwood Tour (11 miles)
Palisades Park at California Incline
Adelaida Ave.
Brentwood Village (San Vicente & Barrington) Shops & dining
Frank Gehry House (SW corner of Washington Ave & 22nd Street)
Unique Homes

18th & Carlyle
9th & Georgina
Art Studio Loop
Murals at Ocean Park Blvd and 4th Street underpass

A Whale of a Mural, by Daniel Alonzo
Unbridled, by David Gordon

Angeles Press (1616 Ocean Park Blvd.)

Printmaking studio and gallery

Café Bolivar (1741 Ocean Park Blvd.)

Local art displayed in this Latin eatery

T. Heritage Gallery (3219 Pico Blvd.)
Artistic Picture Frames/Blue 7 Gallery (3129 Pico Blvd.)
Jennifer Joyce Pottery Studio + Gallery (3028 Pico Blvd.)
Artesanias Oaxaquenas (2919 Pico Blvd.)
Bergamont Station

Formerly a stop on the Los Angeles Red Car line to Santa Monica Pier, now home to a fantastic collection of art galleries and the Santa Monica Museum of Art.

Semiprecious Bead Salon (1028 Montana)
Adamm's Stained Glass & Gallery (1426 4th Street)
Downtown Public Art installations

Dinosaurs, sculptures on Third Street Promenade
Dolphin, sculpture on Third Street Promenade serving double duty as a collection spot for donations to help the homeless.
Cradle, at 4th Street and Broadway